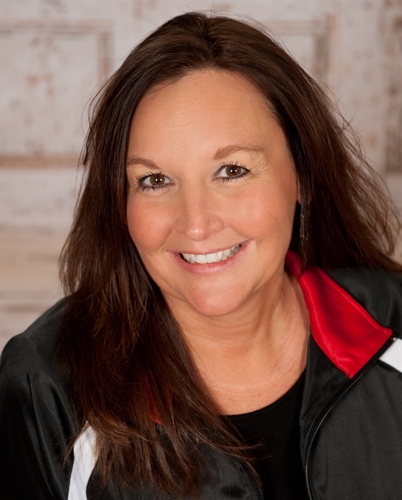 Christine – Owner
Christine began her coaching career in college working for the South Portland Boys & Girls Club in South Portland. Many years later she started coaching for the BAYFL Super Stars Competitive Comp team in Brunswick. In 2012 she started coaching the Mt Ararat Football Cheer Team. That same year she was hired as the MTA Winter Varsity Cheer Coach and held this position until 2021.
Coaching at a Class A school without a feeder program made it very difficult for them to be competitive without tumbling skills. She sought out a tumbling coach and that is how she met Shawn. It wasn't long before the vision of Firehouse Tumbling & Cheer developed. The Mid-coast area needed a place where kids could tumble. Gyms were located in Western, Southern and Northern Maine, but there was nothing available for many local families. In 2015 Firehouse opened it's doors in a 1960's Navy fire station that had been abandoned as a result of the base closure.
Christine has coached the Firehouse Super Stars Team, Inferno since the first season. For the 2021/2022 season, Christine has decided to focus on administration of the cheer and tumbling programs. This will enable her to be a better resource for the youth coaches and parents who are part of Firehouse. This year she will be co-coaching Wildfire. Christine has organized and hosted many successful cheer competitions since 2012 for Mt Ararat and Firehouse. These comps have boasted up to 83 teams in attendance
Christine has 13 years competitive cheer coaching experience. She is also a Board Member of the Maine Youth Cheer Coaches Association (MYCCA) serving as the Competition Coordinator and Secretary. Christine is CPR, first aid, AACCA, concussion and holds all other NFHS certifications.
Her passion for the sport of cheering is what lead us all here!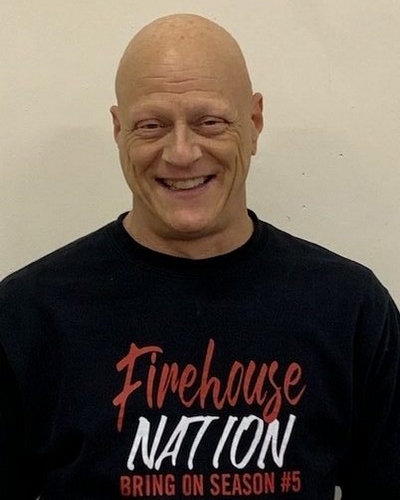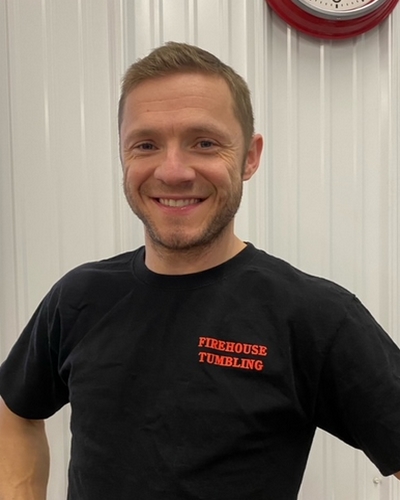 Shawn, Head Tumbling Coach
Shawn is a founding member of Firehouse Tumbling. Since 2015 he has been the face of Firehouse Tumbling. His energy, talent, tumbling and coaching skills make him a leader in the sport. People will drive long distances to have the opportunity to work with Coach Shawn.
Our competitive cheer teams have tumbling skills second to none and their success is a direct reflection of Shawn's coaching.
Shawn began tumbling in high school and was a state champion. When he was a child he was diagnosed with alopecia. Having no hair was obviously a source of criticism from other children. Shawn put his focus and energy into excelling in gymnastics. He was raised by a single parent and knows the hardships of growing up financially challenged. He strongly believes in hard work and teaches respect and appreciation for parental support. He realizes how lucky kids are who have the financially ability to come to tumbling and wants those children to give their all in return. He expects no less than 110% and he'll be the first coach to point that out.
Shawn has a big personality, a huge heart, absolutely amazing tumbling skills and has trained ALL of our athletes.
Shawn is currently running our Tuesday Intermediate & Advanced classes as well as Tuesday Open tumble. Shawn also coaches Semi privates on Thursdays as well.
Chris – Head Tumbling Coach
Join us in welcoming Chris Tarmey to our Firehouse Tumbling Program! Chris has been teaching tumbling to children of all ages and adults for over 20 years. We are excited for Chris to bring his amazing energy and skill level to the gym. He will be our Head Tumbling Instructor in our Monday evening classes and he will be offering some private lessons when available.
Chris started teaching gymnastics at 15 years old and quickly found that teaching kids was his passion. After teaching gymnastics for 5 years, he started his own tumbling business teaching all over the state. Chris ran a successful Tumbling facility in Auburn, Tarmey Tumbling, for over 5 years, but decided to shut down due to the economic struggles with the pandemic. Chris focuses on technique & education, strength training and building a skill set before advancement. He makes learning fun! Our Monday night classes absolutely love working with Chris and playing along with him. He has a positive energy that is felt by athletes and parents when he is at the gym.
Chris works as a full time Carpenter and is an active dad to 4 energetic children. He has decided to keep teaching part time because he loves teaching and making a positive impact in people's lives.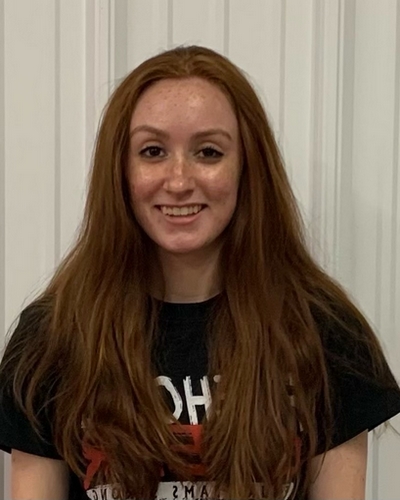 Avery – Tumbling Coach
Avery joined our tumbling staff in 2018. A former Level 8 competitive gymnast, Avery found Firehouse at a time when she was on the verge of giving up gymnastics. Since then Avery cheered competitively on Inferno for two seasons and upon entering highs school began cheering competitively at Mt Ararat.
Avery has the most advanced tumbling skills at Firehouse, is an amazing flyer and has hyper extended jumps. Her technique is second to none and she has a great success rate working with athletes at all levels.
Avery is currently a senior at Mt Ararat and plans to attend a four year college specializing in athletic training. She currently coaches at Firehouse on Mondays offering private lessons as well as instructing our BHS clinic. On Tuesdays you'll find her working with Shawn at our Beginner and Advance class as well as our Open Tumble. Avery has also stepped up to lead our classes on many occasions and without her dedication, our tumbling programs would be greatly impacted.
Avery has a strong work ethic whether she is cheering, tumbling or coaching. She has a no quit attitude and expects athletes she coaches to strive for perfection. If you are looking to perfect technique in tumbling, Avery is your coach!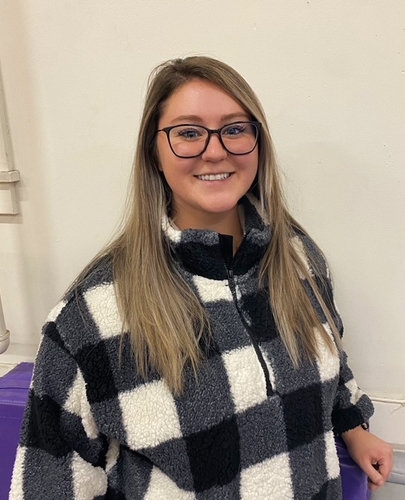 Jaclyn – Inferno & Wildfire Cheer Coach
Jaclyn met Christine in 2012 at Mt Ararat as a member of the football cheer team. It wasn't long before she was made captain of the team and held that position from sophomore thru senior year. She was a stand out from day one. Cheering was on her mind 24/7 and it wasn't just about her being better, it was about her team being better. Since 2015 she has served as a coach for Firehouse. She started as an assistant for Sparks while attending college. In 2017 she became the Head Coach for Team Blaze. Firehouse had one season where we did not have a team Blaze because of registration numbers. The first year Jaclyn coached this team was absolutely incredible and they continued to be. She is a strict coach who expects nothing less than perfection of the smallest things. When you watch her routines, you instantly see the incredible amount of detail she puts into them. Her choreography and routine flow are like no others.
Jaclyn has been open to serve Firehouse cheering in many different capacities. She's coached our summer team, Team Blaze, our first ever all star team Wildfire and in season 2020-2021 was our dance choreographer for all of our youth teams. She is a great resource to all coaches at our gym. This year she has joined Lily to Co-coach our 6th-8th grade team, Inferno. She will also be coaching Wildfire as they return for the 2021/2022 season as an exhibition team.
Jaclyn is a Special Education Teacher for MSAD 75 and is currently working on her master's degree.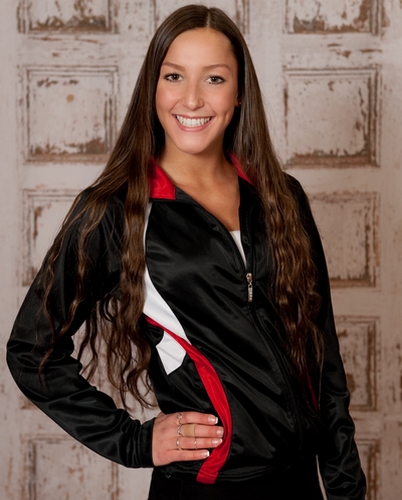 Lily – Inferno Cheer Coach 
Lily began her journey with Firehouse in 2015 serving as an assistant coach for Inferno as a junior in high school. Since season #2 she has served as Inferno's head coach. Inferno is our senior team in the youth program with athletes in 6th-8th grade. This team has the ability to perform stunts that high schools do. Her routines are well crafted, unique, challenging and Inferno has been viewed as 'the team to beat' by many. We started in 2015 just hoping to place at one comp and since then have even had an undefeated season. You will see Inferno placing in the top 3 competitions.
Lily cheered competitively in beginning in 2nd grade and continued thru high school. She was a member of the MTA Varsity cheer team for all four years in high school, cheered one season with the University of New England, one season on an open team with Elite and also was a flyer on our first ever senior team, Wildfire.
Lily started working with Coach Shawn in 8th grade with no tumbling skills and by her senior year, had the only standing tuck on her high school team. She absolutely knows what it is to work hard, fight for skills, overcome fear and be a leader on a team. She can be seen coaching our summer team as well as helping all other comp teams. She can quickly adjust her coaching approach to different ages and skill levels.
After graduating from high school, Lily attended the University of New England majoring in Nursing. In Spring of 2021, she graduated with a BS degree in Nursing and is now working at Maine General Hospital. Lily continued to coach Inferno through four years of a very difficult degree program.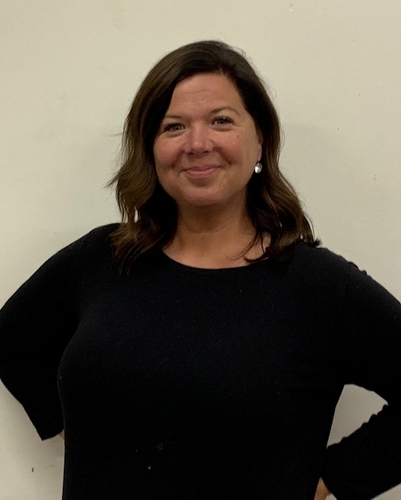 Brie – Blaze Cheer Coach
Brie was born and raised on the cheer mat. Her mother was a grade school and high school coach and she is honored to be following in her footsteps. Brie was named an All American her senior year of high school and upon graduation, immediately began coaching. She brings years of coaching experience to Firehouse after serving as the middle school coach for Great Salt Bay for 19 years as well as assisting at an all star gym.
They say things happen for a reason, and we couldn't be happier the day she decided to call Firehouse to sign her daughter up for tumbling. We really lucked out finding this gem! Brie brings a ton of knowledge, shares the same coaching philosophies, and is an amazing representation of FH. She started with team Flames her first season; encouraging them every day that they were a 1st, 2nd or 3rd place team and she proved it! In 2021/2022 Brie has taken on the challenge of working with Blaze. She strives for young athletes to succeed on and off the mat, learn to respect themselves, their peers and their community. She focuses on teaching proper technique in every aspect of the sport. If you're fortunate to cheer for Brie, you'll also figure out what a DOUBLE 9 is too. This is where she belongs! Watch out for team Blaze because they have 2 amazing coaches with high expectations. Brie is CPR, first aid, AACCA and concussion certified.
Brie lives in Bristol with her husband Ryan and daughter Fiona, during the day you'll find her running her own business as a cosmetologist.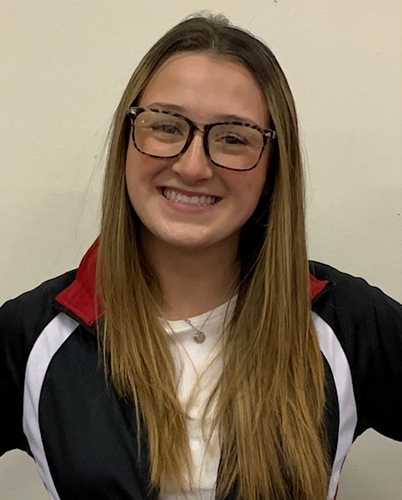 Daryn – Assistant Blaze Coach/Assistant Tumbling Coach
Daryn is a high school senior at Brunswick High School and has been cheering since 8th grade, when she joined team Inferno! It only took one season of cheering to get her passionate about the sport. She worked very hard to learn the technique and by the end of the season she was an amazing base, top tumbler with elite jumps. Daryn began coaching, joining the staff for our Summer Team in 2019. This experience gave her the opportunity to work with all ages and skill levels. Daryn served as an assistant coach for both Sparks and Blaze during season 2020/2021. Both of her teams placed at every competition! Daryn was part of the 2021 Summer Team coaching staff and will be back with Blaze for the 2021/2022 comp season.
Daryn has cheered competitively in high school as well as joining our first ever open Senior Team, Wildfire in 2019/2020. Daryn will be representing Firehouse cheering on Wildfire again this year. She is also an advanced tumbler and serves as an Assistant Tumbling Coach working with beginners and intermediates. She has the ability to spot skills at advanced levels.
Daryn said "her favorite part about coaching is watching how much each kid grows and advances in their skills and being a mentor to kids who share the same passion as her."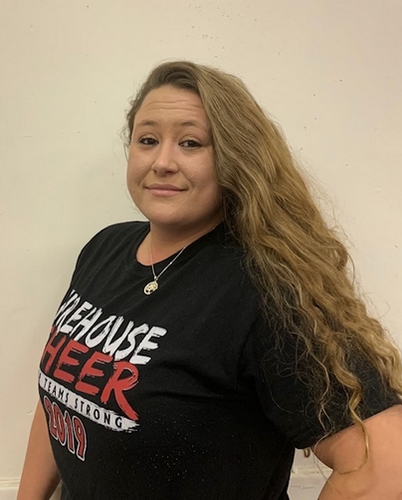 Alysha- Flames Cheer Coach
Alysha has been with our program since 2017. She brings 8 years of cheer experience complimented by 7 years of coaching. She began her coaching career with BAYLF as a football sideline coach. She was also a junior coach, under the direction of Christine, for the BAYFL competitive cheer program grades 6th-8th. Alysha has coached Team Flames beginning in 2017. This is a very challenging age to coach with teams generally consisting of new cheerleaders. Alysha took off the 2020/2021 season to welcome her son into the world.
We are extremely happy to have her back with our program and right back with Flames. It's super exciting to see the progress of this team under Alysha's direction. This is the first team to reach maximum capacity in 7 seasons. Look for 20 Flames to take the mat in 2022!
An alumni of Brunswick High School, Alysha resides in Brunswick with her partner Nick and their son Noah. She is a fulltime leasing manager for local housing association.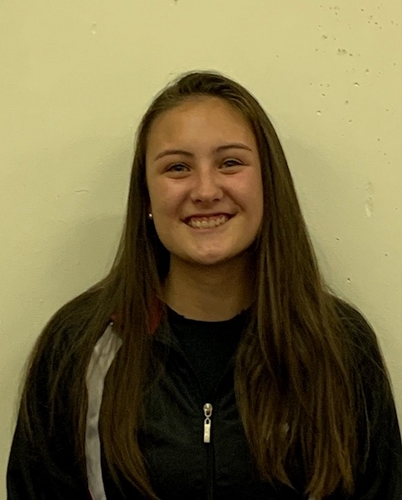 Delaney – Assistant Flames Coach/Tumbling Assistant Coach
Delaney has been with Firehouse since our first season, entering our program as a competitive cheerleader in the 6th grade. She spent 3 years on Team Inferno and then moved up to Wildfire upon entering high school. Delaney has some of the most amazing jumps you will ever see! She is a born leader who consistently encourages her teammates and athletes she coaches, to be their best.
Delaney began coaching for Firehouse during the 2020 summer season, moved on to be an assistant for Flames and Inferno for the 2020/2021 comp season and is now serving as an Asst for Flames for the 2021/2022 comp season.
She also recently started coaching tumbling with athletes toddler-intermediate. Delaney is a senior at Brunswick HS. FH is family and she has grown up in our program. She is well versed in the expectations of our program and is a great representation of our gym.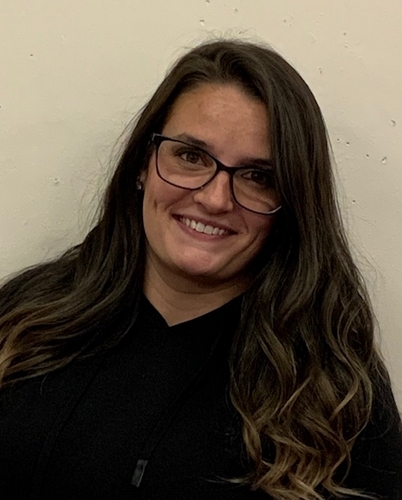 Summer – Sparks Cheer Coach
Summer has had a passion for cheering beginning in the fourth grade. She has cheered at many levels including recreation, high school and all-star teams. Summer is an alumni of MTA and graduated from the University of Maine in 2017 with a Bachelor's of Science in Kinesiology and Physical education. She is currently an elementary educator in Lewiston.
Summer has been the Sparks coach since 2018. These littles are some of the best in the state! I don't know how she does it, but give her 6 or 17 athletes and she gets them looking sharp. They know their routine better than any Rising Stars team I've seen. This is exactly where she wants to be and it shows! Summer started as an assistant coach with us for Team Blaze. She is patient, encouraging and really connects with her team.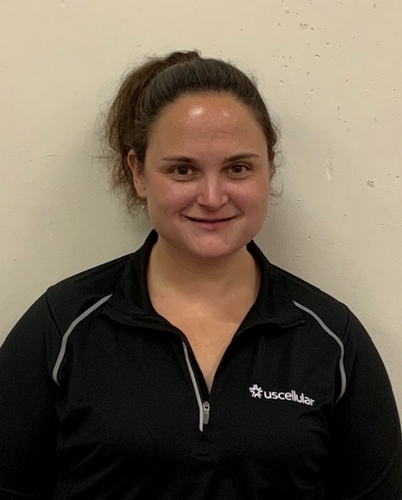 Brittany- Assistant Sparks Cheer Coach
Brittany first joined Firehouse back in 2016 when she brought her daughter in for tumbling class. With experience cheering throughout her high school years and coaching for a short time after, she joined the coaching staff at Firehouse in 2019, assisting with Blaze for two seasons. For the 2021/2022 season, Brittany has made the move to a slightly younger group, Sparks. "Being a part of some of the earliest experiences that these kids have with cheer, is really important. It's my goal to make them meaningful and fun memories, and hopefully they fall in love with the sport like I did!"